Family Foods
Regular price
Rs.200.00
Sale price
Rs.180.00
Unit price
per
Sale
Sold out
Black Chebulic Myrobalan / Chotti Har (چھوٹی ہڑ) is also known as Terminalia Chebula, is a type of Ayurvedic herb which has many health benefits.
The black chebulic myrobalan is rich in tannin (hydrolysable type tannin). Besides, 18 amino acids, 12 fatty acids and small amounts of fructose, succinic acid, polyphenols, phosphoric and shikimic acids are also present in it. It is an excellent source of vitamin C. It is also rich in several minerals including selenium, potassium, manganese, iron and copper.
Black chebulic myrobalan is dry, warm, slightly sweet, bitter and astringent herb. It is useful in treating asthma, acid reflux, abdominal or digestive diseases, hemorrhoids or piles, urinary problems, dental problems, skin diseases and many other diseases. It promotes the receiving power of five senses.
Health Benefits:
1.  Cures Cough & Cold:
Black chebulic myrobalan is a good natural medicine of curing cough and cold. Whenever you have cough and cold, apply this home remedy. Simply take 1/2 tsp of its powder with honey two times a day after meals. You can give it to small children also; give 1-2 pinch of its powder with honey to small children twice a day for 2-3 days. There is no side effect of it; some children might vomit when they consume black chebulic myrobalan for the first time, that is normal and one need not worry about it. They will get used to it very soon. A big pinch (around 2 gm) for children around 3 to 6 years. A small pinch (around 1 gm) for children between 1 to 3 years. This remedy will treat cough very effectively.
2.  Treats Chronic Cough:
If you are suffering from severe cough, simply grind equal amount of black chebulic myrobalan, amla (Indian gooseberry) and mulethi (liquorice) to make fine powder and mix them. Now, ingest 1 tsp of this powder mixing with one spoon honey or mishri with warm milk three times a day. It is an amazing remedy of severe cough.
3.  Treats Constipation:
It has laxative properties that is good to treat various stomach problems like- acidity, constipation, indigestion etc. Whenever your stomach get upset, drink half tsp of black chebulic myrobalan powder mixing with a glass of warm water; it will give you instant relief.
4.  Helps In Weight Loss:
Black chebulic myrobalan removes toxins from the body and keeps the digestive system healthy. Consuming it regularly regulates the hunger and helps in weight loss naturally.
For weight loss, firstly add 6 gm of Black chebulic myrobalan powder in boiling water and boil it till it reduces half. Now mix 1 tbsp honey in it and drink this water with empty stomach, it is good to lose weight speedily.
5.  Cures Migraine:
Black chebulic myrobalan is good for chronic headache, especially headache like migraine. Grind its seed with warm water and apply on the forehead. It gives fast relief in migraine.
6.  Treats Piles or Hemorrhoids:
Black chebulic myrobalan is good for treating problem of piles or hemorrhoids. Simply consume 1 tsp black chebulic myrobalan powder with butter milk. Piles (bawasir) can rather be cured with black chebulic myrobalan and jaggery (gur) too. Take equal amount of black chebulic myrobalan and jaggery (gur) and consume before eating food, it reduces itching and pain of hemorrhoids.
---
The information is for educational purposes only. This information has not been evaluated by the Food and Drug Administration.
This information is not intended to diagnose, treat, cure, or prevent any disease.
Share
View full details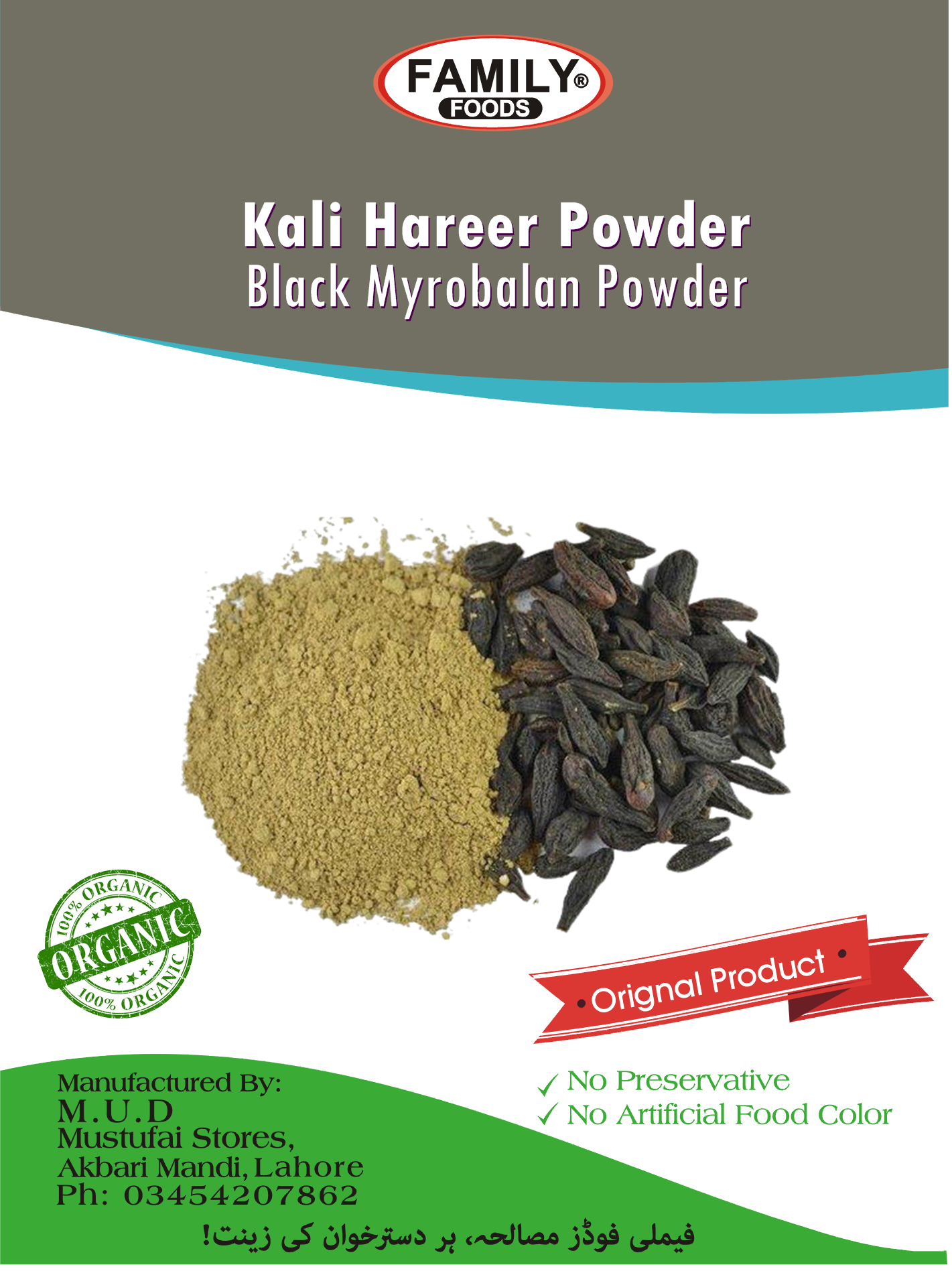 Dates are really tasty and looks very fresh quantity and quality both
are perfect and really delicious 😋 must recommend and ramzan gift
Akbar Ahmad

" So delicious, soon will order it again 👍for Ramadan inshaAllah
delivered on time in good condition
thank You. "

Zunair Illyas

" Look good. I tasted it first time... two points.. one they a little bit hard, secondly seem very sweet... but overall good.. "

Faizan Ali

" Best quality dates received today 💯 satisfied thanks seller and Thefamilyshop
for delivering perfect quality keep it up happy shopping. "

Anum Zulfiqar

" Mashaallah mashaallah boht boht achi hai bhut hi ziada tasty jazakallah Thefamilyshop.pk "